9 Dog Friendly Walking Trails on the Fleurieu Peninsula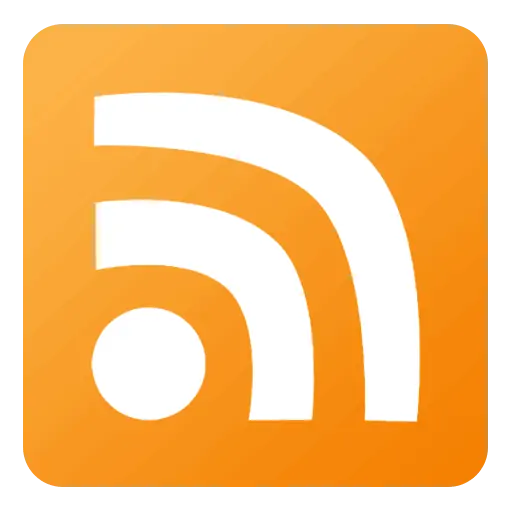 Walking… it is the easiest, cheapest and healthiest way to get around, not only healthy for us but healthy for the planet too. The only foot print you will leave behind is your own; no carbon in sight! Although it is natural and has enormous benefits for our health and wellbeing, some of us still need a bit of extra motivation to throw on those walking shoes.
We have all been told until we are blue in the face about the many health benefits of exercise and for most of us, walking is the easiest exercise there is! Surprisingly though that message still unfortunately isn't enough motivation for many people. The best exercise is the type you don't even realise your doing! Walking, like all exercise not only makes our body feel good but it releases chemicals in the brain to make our mind feel good too, so much so that it can reduce depression, anxiety, improve self esteem and basically make us HAPPY! You remember that feeling right? It feels something like this….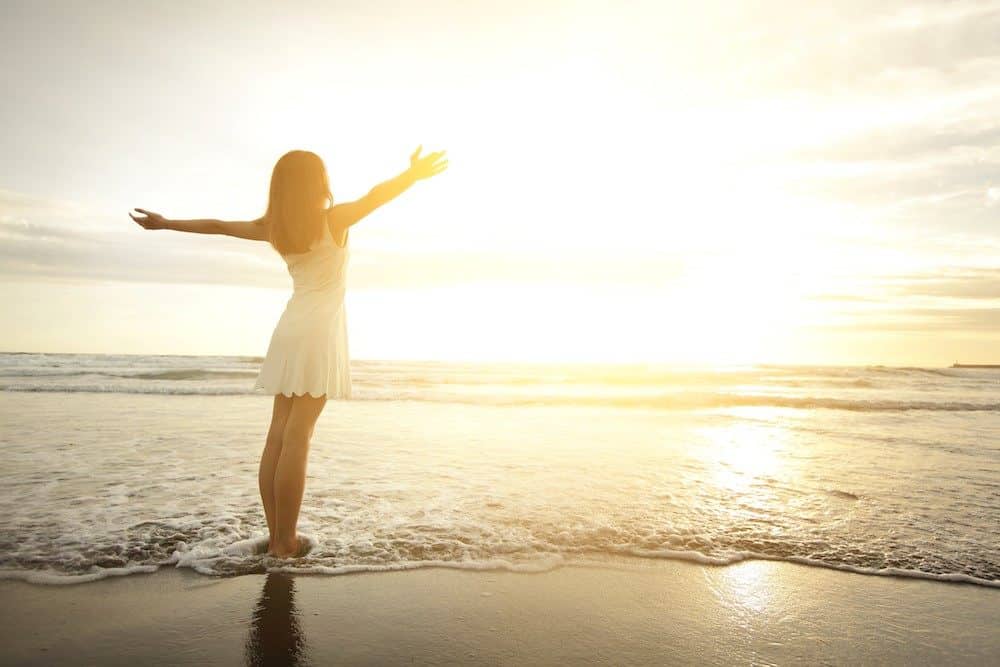 How can you make walking more enjoyable I hear you ask? Walk with friends, family or your fur kids (no one is more excited about walking than our fur kids – maybe we need to follow their lead (pardon the pun)! Walk in a beautiful environment, explore new places you have never seen before, listen to music while walking or just take in the peace and quiet. Go to places you could never go in a vehicle and take stunning photographs while you are there. Spend some time walking while you are on holiday too (we can help with that!), as it is the best way to see the sights up close and mingle with the locals…The list really is endless!
For anyone who is staying in one of our pet friendly holiday homes or any of the hundreds of thousands of annual visitors to the area, we have put together a list of 9 stunningly beautiful and ENJOYABLE, dog friendly walks located around the Southern Fleurieu Peninsula which are suitable for all ages and fitness levels.
Encounter Bikeway (shared path)
Linking Encounter Bay, Victor Harbor, Middleton and Goolwa is the Encounter Bikeway, which is a shared path and very popular with both serious and novice walkers. The full length of this scenic path is 31.5km one way but it has a range of walking distances, so it is suitable for all ages and fitness levels. There are also a number of side paths to explore if you're the adventurous type!
You may decide to walk one way or even part of the way and catch the Cockle Train back? Be sure to check the timetable before you leave! The path is well maintained and flat so it is also suitable for wheelchairs and prams. Scattered along the path you will pass picnic tables, public toilets, seating, plenty of playgrounds and of course incredible views! There is mobile phone access the entire 30kms and the path is easily accessible at various points by car.
A brochure about the Bikeway and a map is available on the City of Victor Harbor's website HERE.
For information about the Cockle Train or to view the time table, visit the Steam Ranger Heritage Railway website.
Encounter Bikeway Photo by Margot McGovern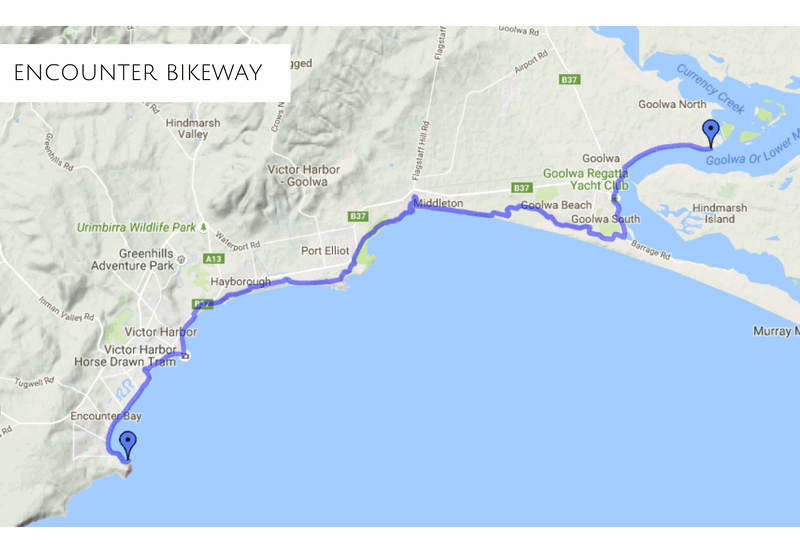 ---
Hindmarsh Falls
Best viewed in the winter time, Hindmarsh Falls is a spectacular sight. This walk is a very short one at only 200M long through stunning native bushland. It can be slightly steep in parts so not recommended for wheelchairs or prams. It is easily navigated though, especially with the use of the handrails and steps that are made available.
This is a great walk for bird watchers and photographers as well as families who want to enjoy a picnic in the picnic area before or after their walk. Unfortunately there are no public toilets in the area or even close by so if you plan on spending a good part of the day enjoying this area, you may want to keep that in mind. The Falls can be accessed at the end of Waterfall Road, Hindmarsh Valley (off Hindmarsh Tiers Road) and there are 2 car parks available, one at the picnic spot and one at the start of the walking track. Mobile phone reception is not very reliable.
Map: Hindmarash Falls (MAP LINK)

It is a short walk to the beautiful Hindmarsh Falls.
Hindmarsh River Walk
This picturesque walk of 6.3kms begins at the ocean and follows the Hindmarsh River upstream. It can be started at the car park at the end of Bridge Terrace or at the car park on Wattle Drive and is flat, so suitable for most people. There is a picnic spot along the way if you want to take a break while you immerse yourself in the beautiful surroundings. You will also pass 'Harrys Hole' which is a small swamp bursting with life where you can stop and listen to the sounds of the birds and frogs which call this place home. The Hindmarsh River walk is a loop, so you will never see the same scenery twice and has several starting points enabling the walk to be broken up in to several smaller legs if needed. Mobile phone access is available the entire walk.
Map: Hindmarsh River Walk (MAP LINK)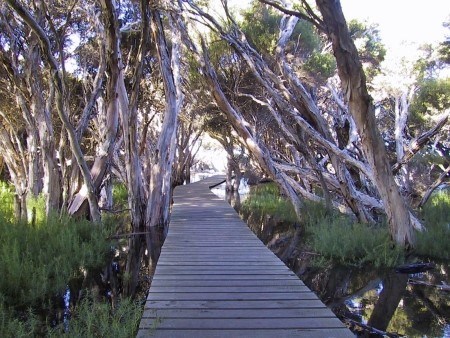 This walk is alive with sights and sounds.
Photo credit: City of Victor Harbor
Photo credit: City of Victor Harbor
---
Kings Head Hike, Heysen Trail
Beginning at Kent Reserve, Encounter Bay, this 6.5km one way scenic coastal walk is mostly flat with a few hills but the path is well maintained and it is suitable for most fitness levels, wheelchairs and prams. The entire walk is along the coastline with breathtaking views to take in, picnic spots to have lunch or take a break and seating along the path too.
From Kent Reserve follow the path along Franklin Parade and walk towards the Bluff. The trail continues past Whalers Way behind Rosetta Head (The Bluff), past Petrel Cove and along the Victor Harbor Heritage Trail to Kings Beach and Kings Head. There is also mobile phone access the entire trail.
For the short scenic version on the wild side of the Bluff, pick the trail up at Petrel Cove or at Kings Beach Rd (and extension of Three Gullies Rd/Jagger Rd at Encounter Bay).
Map: Kings Head Hike, Heysen Trail (MAP LINK)
The walk towards Kings Beach.
Photo Credit: Walking SA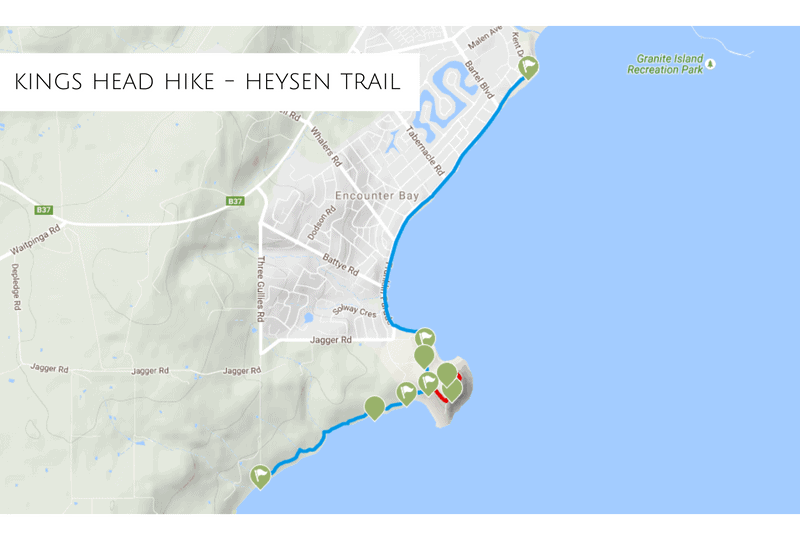 ---
Victor Harbor Heritage Trail, Heysen Trail Spur, the Bluff
This walk has a bit of everything! It is a 6km long one way flat and well maintained path along the coast. A dog and child friendly walk, suitable for prams and wheelchairs too. stunning views, the chance to see dolphins and whales swimming off shore and a short history/geology lesson (through the interpretive signage) all in one!
The Heritage Trail promotes awarenss and understanding of the cultural, environmentral and historical significance of the section of Victor Harbor's spectacular coastline from Kent Reserve to Kings Beach Road, where it joins up with the Heysen Trail. There is seating available along the way, good mobile phone coverage and it is accessable by car.
Map: Victor Harbor Heritage Trail, Heysen Trail Spur, the Bluff (MAP LINK)

Magnificent views along the Heritage Trail.
Photo Credit: City of Victor Harbor
---
Harbourmasters Walking Trail, Port Elliot
The Harbourmaster's walk is a short but delightful path saturated in history that runs from Horseshoe Bay to Knights beach in Port Elliot. The trail begins at the ruins of the Harbour Master's Cottage opposite the YHA on the Strand and is another child friendly and dog friendly walk. A 1.9km circuit hike between Horseshoe Bay, across the headland to Knights Beach.
The trail follows a cobblestone path (paved by volunteers in the 1930's and 40's) around the headland of Freemans Knob past Ladys Beach, Rocky Bay and Green Bay before reaching Knights Beach. The trail returns along the Esplanade and the Centenary Stairs and past Freemans Lookout. The views are panoramic which also make it the perfect walk for professional or novice photographers. The trail has a picnic spot along the way, seating available, public toilets and mobile phone coverage too.

Horseshoe Bay.
Photo Credit: weekendnotes.com
---
Lagoon Trail, Hindmarsh River Estuary
A short, 1.2 km walk along boardwalks and around the lagoon, through paperbark woodland. The lagoon is a remnant of what was once the route of the Hindmarsh River. It is about 120 meters long and up to 35 meters wide and is a mixture of salty and fresh water. Begin the walk at the bridge of the Hindmarsh river mouth and enjoy all the natural beauty and wildlife as you make your way around the lagoon. There is a picnic spot nearby, public toilets and mobile phone coverage.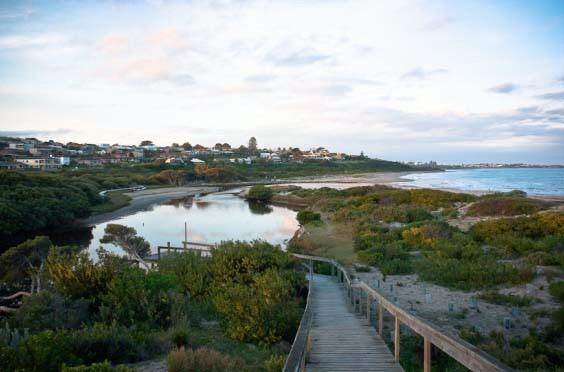 View over Hindmarsh River.
Photo Credit: Walking SA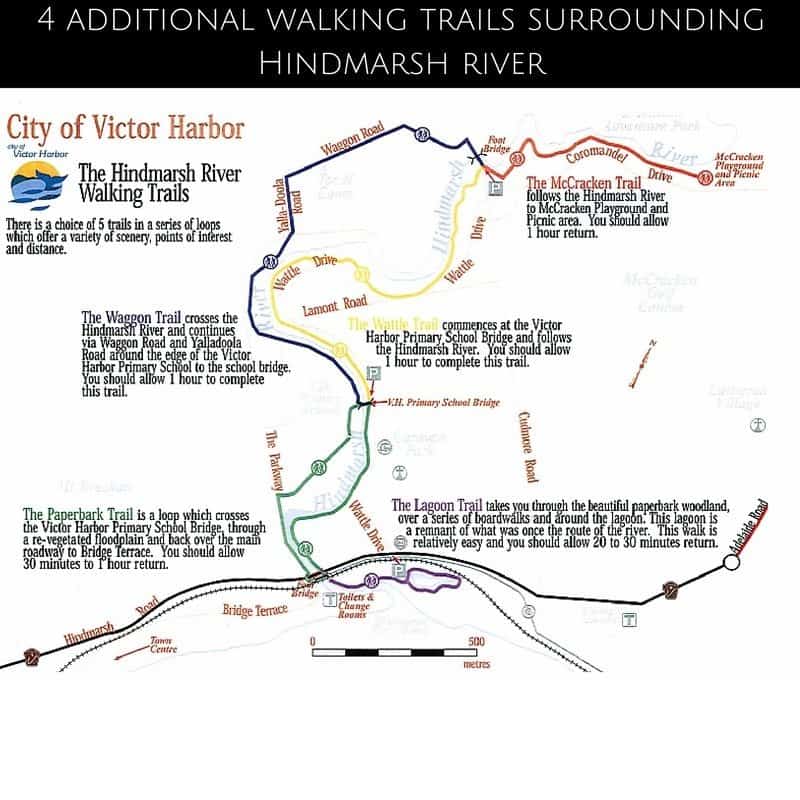 ---
Walk Into History at Port Elliot
This trail, along the foreshore of Horseshoe Bay, features five interpretive signs and a brochure that tell the story of the seven vessels wrecked at Port Elliot between 1853 and 1864. A quick self guided walk through the town, gives a great insight in to the history of Port Elliot in the middle of the 19th Century and the years since. This historical walk takes visitors past the major items of significance. Each item has an information board which provides further details of its history over the last 160 years.
The walk commences alongside the railway station and takes around 60 minutes to complete. There are local shops close by, public toilets, picnic areas and Port Elliot is accessable not only by car but by bus and train too. You may want to add to the history theme of the day and include a trip on the Cockle train in your itinerary? The walking path is well maintained and flat and is suitable for all fitness levels. It is wheel chair and pram friendly and of course just like all the other walks we have mentioned, the fur kids are welcome too!
Map: https://www.google.com.au/maps/place/Port+Elliot+Maritime+Heritage+Trail

Heritage walking tours leave from the railway station.
Photo Credit: Walking SA
---
Rosetta Trail, the Bluff
Explore the Bluff (also known as Rosetta Head) by walking the 800m Rosetta Trail to the top of the Bluff. Begin at the Petrel Cove carpark and make your way up the 60 metre ascent to the summit of the Bluff. This walk requires a little effort but once you reach the Bluff, the spectacular 360 degree views make it well worth it! This is also a popular spot for whale watchers with whales coming as close as 10 metres of the cliff face.
Photographers often frequent this area, not only for the views and the whales but the dolphins and seals too! There is mobile phone coverage on this walk too but no seating, toilets or anything else, so grab a back pack, your camera, binoculars and a drink and head on up to the top of the Bluff.
Map: https://www.google.com.au/maps/place/Petrel+Cove+Beach
Rosetta Head.
Photo Credit: Wikipedia
Like I mentioned earlier, it is great to have our fur kids accompany us on a scenic hike or a leisurely walk. It adds a bit of fun and what dog doesn't like going for an adventure? Lots to sniff, lots to do and with all the excitement comes the inevitable dog poo!
Help look after our local environment by picking up that poop and put it in the nearest bin. Dog number 2's, doo-doo, poop, turds (whatever you might call it) left in a public place such as a park or footpath can pollute our stormwater drains which discharge into our local beaches… That is something no one wants! No dog motions in our Oceans I say! You may also receive a $55 fine.
So next time you're walking your dog, make sure you take plastic (biodegradable) or flushable bags with you and clean up after your dog. Council has dog litter bag dispensers along the foreshore area and at some parks within the township area.
For locations visit the Doggy bag dispenser location map: https://www.victor.sa.gov.au
Biodegradable poo bags
http://www.biome.com.au/140-biodegradable-plastic-bags#/
Useful links:
https://www.victor.sa.gov.au
http://www.walktober.org.au/