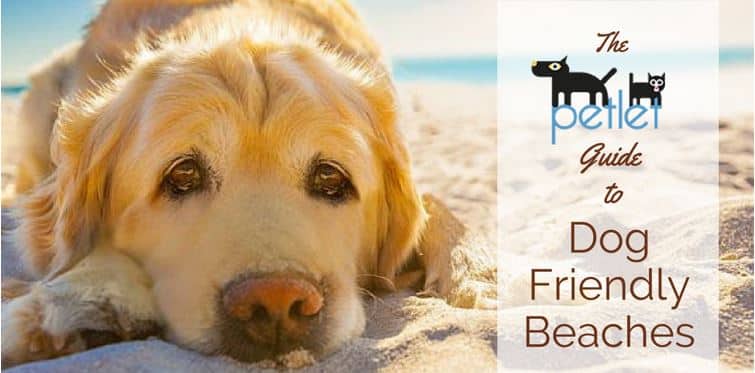 Dog Friendly Beaches near Petlet Holiday Homes!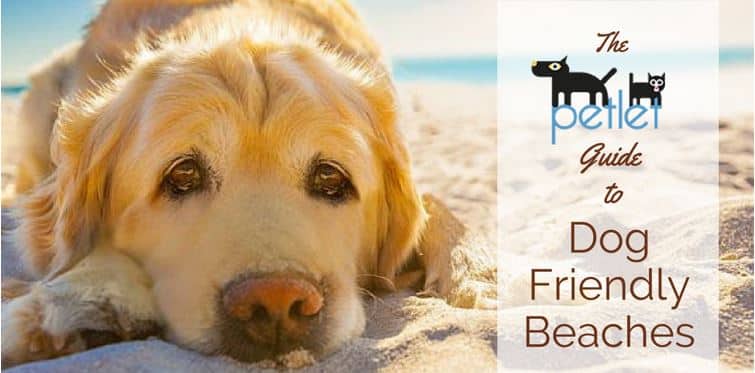 We all know that certain other Australian states like to have a bit of a joke about South Australia, but one thing we do have are some of the best dog friendly beaches in Oz! So there!
Not only are there more beaches in SA where your pup have a run, but without the rough surf of the east coast, the water is better for them to play in too! South Australia is also home to some of the most glorious beach sunsets, which is something we South Aussies should never take for granted..
Before we jump into the list of dog beaches located near Petlet Holiday Homes, here's an important note: In South Australia, you must obey on leash restrictions, and always keep an eye on your dog when it's off leash, in order to protect the Hooded Plover population. Their habitats are under serious threat with only about 50 individual Plovers left on the Fleurieu Peninsula, and a big part of that is from dogs hunting them and destroying their nests. So if the rules are followed, it will help save the Plover population, let your dog still enjoy the beach and you will also avoid a hefty fine. Find out more from Natural Resources SA – Hooded Plovers Project.
ALEXANDRINA COUNCIL AREA
Including Goolwa Beach – Goolwa to Middleton Beach – Bashams Beach and Horseshoe Bay

Here on the beautiful Southern Fleurieu beaches between Port Elliot and Goolwa, the weight of the city won't bear down on you or your doggo and the fresh air will do you both a lot of good! From the incredibly popular family beach at Horseshoe bay, or the quieter surfers favourite at Middleton, to the unrestricted puppy's paradise at the Goolwa to Middleton Beach or the beautiful car AND dog friendly Goolwa beach! You're spoilt for choice when looking for a dog friendly beach on this stunning stretch of the coast.
If all that frolicking on the beach with Fido has given you a serious appetite, there's also lots of dog friendly cafes nearby, in particular the lovely people at Cafe Lime, who pride themselves on being welcoming to our fluffy friends! Dogs are welcome to sit outside with their humans and enjoy some homemade doggy snacks with a bowl of water to wash them down.
Download and print the Alexandrina dog on-off leash broschure here
THE CITY OF VICTOR HARBOR
Beaches stretching from Encounter Bay to Victor Harbor and surrounding areasVictor Harbor as you probably know is an iconic seaside town and a favourite place to visit for families across SA.. What's even better is it's miles of dog friendly sandy beaches. You may even spot a whale, some dolphins and a whole bunch of native wildlife if you are lucky.RESTRICTIONS
Dogs on the beach (where dogs are permitted) must be on a leash between the hours of 10am and 8pm during the daylight saving period. At all other times dogs must be kept under *effective control by either a two (2) metre lead or by voice command. The dog must also be in close proximity to the person with the person being able to see the dog at all times.
For the extra energetic furry family members who'd prefer to be completely leash free, you may like to try the new Victor Harbor Dog Park. Dog parks are awesome, not only for the dogs but they're the perfect solution for the owners too! They offer the freedom of running without constraint, allowing them to play, sniff, chase, roll and romp to their heart's content. Many problems such as digging and barking arise because dogs are restless and bored. Often, these problems can be solved simply by giving dogs exercise and the opportunity to play freely.
ROBE
Beaches include: Main Beach – Long Beach – Karatta Beach – Wrights Bay – West Beach – Hoopers BeachOn the northern side of the popular beach holiday town Robe, is the perfect family beach and a favourite of those visiting Robe, Long Beach. It's one of the few beaches left in South Australia where you can still take your car. So take a drive along this 17km strip of sand, find that perfect spot and set up for the day and be sure not to forget you 4 legged family member! Forgot to pack lunch? Head over to Adventurous spoon Cafe/Restaurant, https://www.facebook.com/adventurousspoon/ it's a doggy-loving place. At Adventurous spoon they have a perfect outdoor area for the fur kids to play, delicious food and really friendly staff who always have a smile on their face.
RESTRICTIONS
Prohibited dog areas: Main Beach, from Post office to Sea-Vu Caravan Park; Long Beach, between First ramp & the rocks and; Karatta Beach
Off Leash dog areas: Wrights Bay; Lipson Park; West Beach; Hoopers Beach and; Long Beach, except between 2nd & 3rd ramp, between 10 am and 8 pm during daylight savings, excluding Guichen Bay Conservation Park
On Leash dog areas: All other parks and beaches, dogs must be under *effective control by means of physical restraint
NORMANVILLE AND CARRICKALINGA BEACHES
Carrickalinga is a lesser known holiday destination, a hidden treasure…this is what makes the Carrickalinga Beach so peaceful and serene.

Named South Australia's top beach by The Lonely Planet in 2013, it is long and wide, with impossibly white, soft sand and sheltered aquamarine waters. The lack of people means it is clean, untouched and rarely busy which makes it an ideal beach to exercise your 4 legged friend.
Long sandy beaches are part of these seaside communities and Normanville Beach stretching 7.3km is no exception. Another reason we love Normanville is for the delicious food and coffee served by the Southbound Diner! Another canine loving cafe, it not only serves tasty human food but will be happy to serve your (possibly sandy and wet) fur baby with some yummy doggy snacks, fresh water and a dogachino it they are so inclined.
RESTRICTIONS
Permanent dog off-leash – effective at all times of the year and all times of the day: Where dogs can be exercised off-leash and under *effective control – Normanville/Carrickalinga Beaches – between 200 meters north of Normanville Jetty (Lacham Street access) to the southern side of Carrickalinga river estuary.
Permanent dog on-Leash – effective at all times of the year and all times of the day:
Normanville Beach – 200 meters either side of Normanville Jetty.
Lady Bay – 100 meters either side of the Yankalilla River Outlet
Dog on-leash – effective between 10am to 6pm from 1 December to the end of February and Good Friday to Easter Monday (inclusive):
Carrickalinga Beach – between Carrickalinga River and Carrickalinga Head.
Carrickalinga Beach – 100 meters either side of the beach access by the public toilets
Lady Bay (from south of Bungala River estuary to Little Gorge Outlet)
(Outside of these restriction times, dogs may be exercised on or off-leash, again always under *effective control.)
*What is effective control of your dog?
Effective control of a dog that is "Off Leash" means that the owner/person responsible for the dog can voice control their dog in a manner that ensures the dog will obey. The dog needs to remain in close proximity and in sight of the owner/person responsible, at all times. When the dog is called (one call only), the dog should immediately respond and return to its owner/person responsible. The owner/person responsible should be able to display control over the dog with verbal commands only (not physically holding the dog).
Exercising Effective Control "On Leash":
In all public places and where legislation or By-laws require a dog to be on a physical restraint – a dog is still required to be under the effective control of a person. In these situations "Exercising Effective Control" is by means of voice command and physical control. The physical control of the dog must be by means of a chain, cord or leash that is no longer than 2m in length". In these situations, "Exercising Effective Control" requires the person restraining the dog to be physically able to control the behaviour of the dog.
**All the information listed was up to date at the time of publication and is to be used as a guide only. Remember to check the local councils website for the most updated information before taking your dog to the beach.
You may want to check out the Best Dog Friendly Walking Trails on the Southern Fleurieu?
Or for something different, treat your pup to a SUP (stand up paddleboarding)
Maybe you'd prefer to explore the mysterious world under the ocean? We can show you The Best Snorkelling and Diving Spots on the Southern Fleurieu!